If you are a former Prisoner of War or a next of kin of a POW, we invite you to sign and leave your email address so others that come may find you. Please mention camp, compound, barracks and room numbers if possible.


2nd Lt. John C. Morgan
92nd Bomb Group - 326th Bomb Squad
Congressional Medal of Honor
Shot down March 6, 1944


Stalag Luft I - North 1 Compound
Crisis in the Cockpit
By John L. Frisbee, Contributing Editor
Air Force Magazine -Published January 1984
The copilot, John Morgan, had two alternatives: pull the plug on a wounded friend or fight him for control of the stricken B-17
At mid-1940, with war raging in Europe and the United States sure to become involved, it looked as though John Morgan was never going to be an Army flyer. The 6-foot-2-inch, 210-pound Texan had been classified 4-F by his draft board as a result of an earlier accident in which he had broken his neck. But the Royal Canadian Air Force, more interested in willing warriors than in medical history, welcomed Morgan into its pilot-training program. A year later, he was in England, wearing the RCAF uniform but flying bombers for the Royal Air Force.
In May 1943, Morgan transferred to the US Army Air Forces as a flight officer and was assigned to the 92d Bomb Group's 326th Squadron, based at Alconbury. Sixty days later, on July 18, Morgan sat in the right seat of a B-17 as copilot for 1st Lt. Robert Campbell, a huge, muscular Mississippian, as they climbed out over the North Sea, and headed for Hanover and one of the most remarkable bomber sorties of the war.
Before the bomber stream reached the Dutch coast, it came under heavy attack by Luftwaffe fighters. The intercom of Morgan's plane was shot out, the tail, waist, and ball-turret guns ceased firing, a cannon shell shattered the windshield on the copilot's side, and a machine-gun bullet struck pilot Campbell in the head, splitting open his skull. Campbell, semiconscious and in a crazed condition, fell forward, locking his arms around the control column.
Morgan knew that if the B-17 dropped out of formation it would be easy prey to German fighters. Flying with his right hand, he dragged Campbell off the controls, holding him back in the pilot's seat with his left arm. The wounded pilot continued to fight instinctively for the controls as Morgan maneuvered back into formation. He now had two alternatives: pull Campbell's oxygen mask off, which, at 26,000 feet, would have been fatal to the wounded man, or fight the crazed pilot for control of the B-17 as long as his strength lasted, hoping that another crew member might come up to the cockpit and help. He chose the latter alternative.
Once again enemy fighters came in. As they pulled up over the riddled B-17, the top turret gunner fell to the floor, one arm shot off at the shoulder. Morgan's navigator, Keith Koske, unable to apply a tourniquet, got the gunner into a chute and pushed him out the lower hatch, believing correctly that the minus 50-degree F. cold would stop the bleeding. The gunner survived, was cared for by German surgeons, and was repatriated in late 1944.
The navigator, bombardier, and engineer were aware from the B-17's erratic flight that something was wrong in the cockpit, but all were too busy fighting off attackers to leave their stations. For two hours, John Morgan held formation, all the time fighting to keep the irrational Campbell off the controls. Finally, after bombs-away, navigator Koske came up to the cockpit and, shocked by the grisly scene, helped Morgan get Campbell out of the pilot's seat.
As the formation let down over the North Sea, the gunners Morgan had believed to be dead appeared on the flight deck. Their oxygen system had been knocked out in the first fighter attack and they had been unconscious until the bombers descended to lower altitude. Campbell died minutes after Morgan landed the battered bomber at an RAF base near the English coast.
On Dec. 17, 1943, Lt. Gen. Ira Eaker, Commander of the Eighth Air Force, presented 1st Lt. John C. Morgan the Medal of Honor in recognition of his heroic acts over Germany that July day. General Eaker directed Morgan to fly no more combat. But Morgan decided that if the war was not over for the Allies, it wasn't over for him. He volunteered for several more missions, including the first Berlin raid of March 6, 1944. On that day, Morgan's war against Nazi Germany came to an end. His B-17 was shot down and he remained an unwilling guest of the Luftwaffe until V-E Day.
Morgan must surely be the only draft-classified 4-F to serve with the air forces of three nations, fly 26 combat missions (he says it really was only 25 and a half) with the RAF and the AAF, earn this country's highest decoration for valor, and spend 14 months as a POW. No American who survived World War II paid his dues more fully than that tough, tenacious Texan.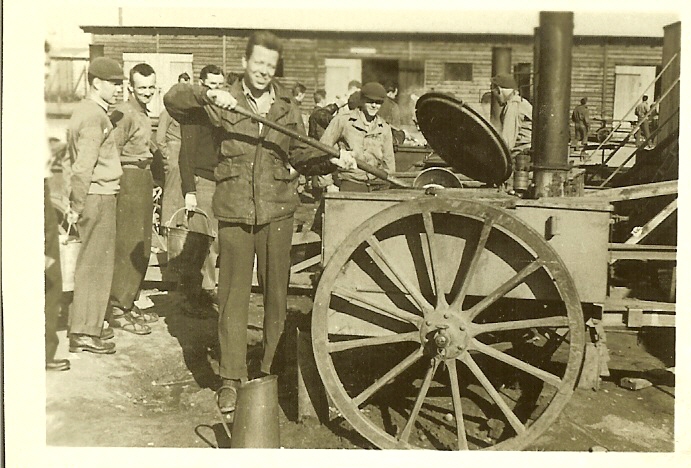 John "Red" Morgan dishes hot water from a field kitchen
in the North I compound at Stalag Luft I
Congressional Medal of Honor Citation:
For conspicuous gallantry and intrepidity above and beyond the call of duty, while participating on a bombing mission over enemy-occupied continental Europe, 28 July 1943.

Prior to reaching the German coast on the way to the target, the B17 airplane in which 2nd Lt. Morgan was serving as copilot was attacked by a large force of enemy fighters, during which the oxygen system to the tail, waist, and radio gun positions was knocked out. A frontal attack placed a cannon shell through the windshield, totally shattering it, and the pilot's skull was split open by a .303 caliber shell, leaving him in a crazed condition. The pilot fell over the steering wheel, tightly clamping his arms around it. 2nd Lt. Morgan at once grasped the controls from his side and, by sheer strength, pulled the airplane back into formation despite the frantic struggles of the semiconscious pilot. The interphone had been destroyed, rendering it impossible to call for help. At this time the top turret gunner fell to the floor and down through the hatch with his arm shot off at the shoulder and a gaping wound in his side. The waist, tail, and radio gunners had lost consciousness from lack of oxygen and, hearing no fire from their guns, the copilot believed they had bailed out. The wounded pilot still offered desperate resistance in his crazed attempts to fly the airplane. There remained the prospect of flying to and over the target and back to a friendly base wholly unassisted. In the face of this desperate situation, 2nd Lt. Officer Morgan made his decision to continue the flight and protect any members of the crew who might still be in the ship and for 2 hours he flew in formation with one hand at the controls and the other holding off the struggling pilot before the navigator entered the steering compartment and relieved the situation.

The miraculous and heroic performance of 2nd Lt. Morgan on this occasion resulted in the successful completion of a vital bombing mission and the safe return of his airplane and crew.

The following article is reprinted from Texaco Topics Publication, Special 75th Anniversary Edition
( Published in 1977)
Texaco's Flying Pioneers

|

An American Hero

John Cary Morgan worked for Texaco for 42 years, with 37 of those being in the Aviation Sales Department. He was awarded the Congressional Medal of Honor for his heroism aboard the Ruthie II. John was later shot down over enemy territory in the first daylight bombing raid of Berlin. He spent the final 14 months of the war in a German prison camp. The book and eventual movie classic "Twelve O'clock High", is thought to be loosely based on the Mission of the Ruthie II. John Morgan passed away in 1991, a real life American Hero.

John C. "Red" Morgan's life story sounds like the script for a Hollywood adventure movie. But nothing in a movie based on his adventures would be fictional. The story would relate the exploits of an aviator whose courage in the United States Army Air Corps during World War II earned him the Congressional Medal of Honor.

The film would make it clear that this former Texan has had a passion for airplanes and the open, endless sky since he was a child.

This past April, John, who is Division Manager - Los Angeles in the International aviation sales Department, marked his 39th anniversary with Texaco. He joined the Company in 1938 as a truck operator at the Oklahoma City Sales Terminal.

At six feet, two inches, and 210 pounds, John Morgan is a powerfully built man who today looks younger than his 62 years. His head of thick white hair (once "flaming red in my flaming youth") gives him a very courtly appearance.

For a man who was recently inducted into the Colorado Historical Society aviation Hall of Fame and is honored in many university aviation displays and also one at the United States Air Force Academy, John Morgan is an unassuming, gregarious individual who exudes warmth and friendliness. He seems, in fact, to become a little embarrassed when he is asked to talk one more time of his wartime heroism.

"There are very few heroes," he tells a visitor. "Under the circumstances I think most people would have done the same." Here is what John says "most people" would have done:

By mid-July, 1943, young Flight Officer John Morgan had already received the Distinguished Flying Cross for safely flying home a B-17 bomber that had been damaged in a raid over France. On July 26, little more than a week later, John was the co-pilot on another B-17, one of 600 in an attack group from England with a mission to destroy some railroad yards in Hanover, Germany. Over the English Channel they were attacked by German fighters.

The first burst of machine gun fire from one fighter shattered the windshield for the cockpit and mortally wounded the pilot. Bursts from more enemy fighters wounded several other crewmen and knocked out the B-17's communications system and all but one of its machine guns. The oxygen system for the rear of the plane was also disabled, leaving five crewmen there unconscious.

John struggled to regain control of the plane, which was in a nose dive because the pilot, dying from a head wound, had slumped against the controls. The mortally wounded pilot lived almost four hours and instinctively fought John for control of the aircraft all of that time.

John chose not to abort his mission, even though he might have been able to request a fighter escort back to England.

It would be four hours before the bomber force completed its mission and returned to base. Through those hours, John Morgan, barely able to see through the shattered windshield, handled the many jobs meant for two men at a B-17's controls. All through those hours, enemy fighters attacked continually, and heavy flak from ground batteries exploded in deadly black puffs around the plane.

Four months after this flight, 29-year-old John Morgan was awarded the Congressional Medal of Honor. His B-17 was never flown again. General Curtis E. LeMay, in his autobiography, Mission With LeMay: My Story, paid John this tribute: "He flew like a homing pigeon to the target in spite of the fact that he had every right and reason to turn back or bail out."

John was given the opportunity to be sent home after receiving the Medal, but he chose to stay with his unit. Eight months later, on March 6, 1944, he began his final mission: the first daylight bombing raid over Berlin. This was one of the biggest raids of the war, involving more than 1,000 airplanes.

"I was flying in the lead aircraft," John says. "We had just reached the target area when we were hit by flak, which resulted in control damage and fuel tank fire. The aircraft tumbled out of control, and subsequently exploded."

John was blown out of the plane minus one important item-he had not been wearing his chest-pack-type parachute. In the chaos, he just had time to tuck it under his arm. As he dropped 20,000 feet out of the flak-filled sky over Berlin, he frantically worked to snap the chute onto his chest harness. Finally, at approximately 400 to 500 feet above the ground, it was snapped on, and the chute was opened. John had unintentionally accomplished what newspaper accounts later called "one of the most spectacular free falls in history."

"I didn't think I was dead," John muses about that fall. "There was no question about it. Strangely, when you are in that situation you are no longer afraid. I have learned that the unknown is usually the most frightening."

Captured approximately "10 seconds" after landing in the middle of Hitler's Berlin, John spent the final 14 months of the war in a prison camp.

John has been fascinated with flight since he was a four-year-old boy in Vernon, Texas, and watched a barnstorming pilot in an old biplane zoom over his home. He had all of three and a half-hours of flight instruction when he made his first solo flight as a University of Texas freshman in Austin. His father, an attorney, was not exactly thrilled.

"My father had been a regular passenger in the early airline days," drawls John in a soft Texas accent, "and he felt it took a super human and a genius to fly those contraptions." He pauses. "There was some question in his mind whether or not I fit that description."

After attending several different Texas colleges, John decided school wasn't for him. So, at age 20, he went off to the Fiji Islands, where he supervised laborers on a pineapple plantation and cannery and later worked in a gold mine.

When he returned to America in 1938, he joined Texaco where he remained until he entered military service in 1940 in the Royal Canadian Air Force. He transferred to the United States Air Corps in May, 1943, while in England.

When he was released from the service after the war ended, John returned to Texaco as an aviation Representative in the Sales Department in Chicago. While there he met a young Texaco secretary, Chris Ziegler, who became his wife in 1947.

During the Korean War, John took a leave of absence from his job to serve six months as Deputy Assistant Secretary of the Air Force and was recalled to active military duty in 1950, serving until 1953.

He still holds a commercial pilot's license but doesn't use it. Occasionally, he says, he will go up "for a spin" with pilot friends. When he gets together with other pilots, the talk usually centers on current developments in aviation.

"I have great respect for the others who have the Medal [there are 286 living recipients], but I really don't think about it for myself," he says. "I'm very proud to have it. Many good things have come to me because of it. I've met interesting and fine people and been privileged to work in aviation and for Texaco for most of my adult life."

"But I don't dwell on the past. Frankly, I think it would be boring for people to hear about it."

John Morgan is anything but boring. After spending time with him, a visitor comes away with the feeling of having had the good fortune to meet a real-live American Hero.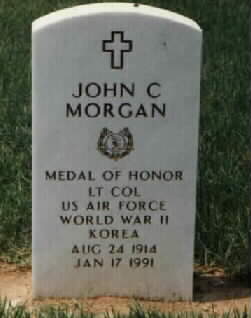 John C. Morgan is buried in Section 59 of Arlington National Cemetery






Additional info